BedrockPerson (also known as The_Zog.) is a YouTube user. He plays Minecraft, Super Mario 64, and the Half-Life series as well.
BedrockPerson

BedrockPerson

Name

[REDACTED]

Age

[REDACTED]

Gender

Male

Nationality

American

First Appearance

MINECRAFT! Part 1

Years active

2013-present
Series
MINECRAFT! (2013-present)
Super Mario 64 Bloopers (2014-present)
Messin' around in HλLF-LIFE (2014-2015)
HL2 Sigma (2014-2015)
Synopsis
MINECRAFT!
MINECRAFT! follows Bedrock as he traverses the treacherous "Great Land", as he combats the forces of the mysterious "Decay_The_Witherer", a mysterious entity stalking BedrockPerson with taunts and all out confusing phrases. Season one is planned to have 13 or 14 parts. A second season with a completely different plot is planned.
Bedrock's Super Mario 64 Bloopers follow him and an assortment of friends as they barrel through multiple comedic situations. Though each differs, two things are for certain: Bedrock's an idiot, and there are no built in captions.
Messin' around in HλLF-LIFE
Messin' around in HλLF-LIFE follows the silly and non-legit adventures that Bedrock holds as he (kinda) speedruns HλLF-LIFE. There were plans for one last episode for HλLF-LIFE, as well as episodes for HλLF-LIFE2  that have since fallen through.
HL2 Sigma follows "Gary" from when he wakes at Black Mesa to toppling the City 08 Citadel. HL2 Sigma has had 3 seasons not counting the original: the prequel, Before Sigma, the sequel, After Sigma, and the finale and current series, Sigma REDUX.
Sigma REDUX was effectively cancelled four episodes in, leaving the story permanently unfinished. Gary is offhandedly mentioned in Joe and Jerry Learn the Truth, where it is said he died of the radiation poisoning.
Trivia
Recently, an interview was conducted with BedrockPerson via Skype. The transcript can be found here: click this
Bedrock's most popular series is his SM64 bloopers.
BedrockPerson uses subtitles for text in his Sm64 Bloopers.
According to bloopers, BedrockPerson started the Ebola outbreak in his basement lab.
Friends/Allies
SonicFan13
YetiTheAwesomeGuy
Nintendoteen202
Mario fangamer
Neilstar007
Freezeflame22
Zenon
MCSHYGUY THE HELPING TOAST FAIRY
DylanDylan54321
MarioFan7070
Guquiz & everyone in his bloopers
EmigasFist (Negotiable)
Enemies
EmigasFist (frenemies)
Starman3
Kiddy-the-dragon
Trolls/Vandals
Death Trappers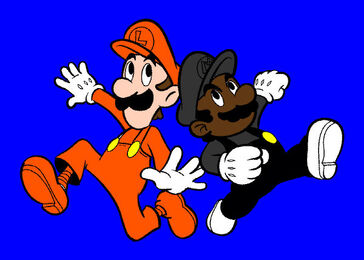 Ad blocker interference detected!
Wikia is a free-to-use site that makes money from advertising. We have a modified experience for viewers using ad blockers

Wikia is not accessible if you've made further modifications. Remove the custom ad blocker rule(s) and the page will load as expected.