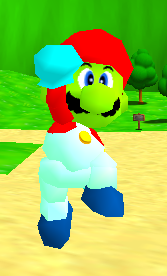 YetiTheAwesomeGuy, or simply known as Yeti or Y3TI in BedrockPerson's bloopers, is the founder of this wiki, but isn't active. He also creates color codes but doesn't actually make bloopers. He appeared as a main cast in Bedrock's bloopers and his most major role was in The Rescue 2, where he set out with NintendoTeen202 and Bedrock to rescue MCG. Yeti seems to be a drug addict in the bloopers.
Yeti had an old color code which appeared in early bloopers, but BedrockPerson made a new as shown to the right. He is also set to appear in NintendoTeen202's bloopers and videos.
Fanon Bloopers
TheThomas5252
SuperMarioGlitchy4
Making Game Tiles
EmigaRaptor
YugEmosewaEhtItey
Emigasfist
Emiga Gang
Wiki Vandalizers
School (._.)
YetiTheAwesomeGuy made MarioFan7070 and Withersoul235's color codes.
Yeti likes making game tiles.
Yeti has a grudge against Zenon The Raptor.
NintendoTeen202 is one of Yeti's best friends.
In NintendoTeen202's bloopers, Yeti appears as blue Bomberman.