"Welp, I'm bored.  Who's up for a burger?" - MarioFan7070 in The Adventure
Through Time
MarioFan7070, or Chris Lee, was a former Youtuber and a character in Zog's bloopers.  He used to have a YT Account in which he uploaded plush videos but closed it for personal reasons.  He appeared in The Return 2 Part 1, The Injury, and The Adventures Through Time, The Life Competition, and Unused Jokes.  MF7070 has an old account that was ranked #4 on the Smg4 Wiki but closed it, then made a new account in which he is a chatmod and MM54321 Wiki, and is ranked #10 there.  MF7070 is a member of Shroomwood and the MM54321 Wiki Revivers.  His most major appearance was in The Life Competition, where he accidently shot BedrockPerson and got in a fight with NeilStar007, and then was forced into a contest to see who was better at life.  It became a tie.
MarioFan7070



Name

Chris Lee

Age

[REDCATED]

Gender

Male

Nationality

South Korean

First Appearance

The Return 2

Years active

1 Year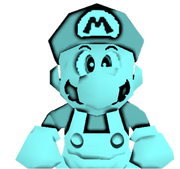 Appearances
Edit
The Return 2
The Injury
The Adventures Through Time
The Life Competition
Unused Jokes (Dialogue only, color code not shown)
Sm64 Halloween Special 2014
Blooper Promo 2
The Mission
The Dimensional Discrepancy 2: Part 5, Part 10, Part 11
DylanDylan54321
Schm2000
SuperEmiga
Zenon The Raptor
MarioMario54321
SuperMarioGlitchy4
MarioMario761
RoyalOmg
Quirkology
YetiTheAwesomeGuy
NafCinos31
NalydNalyd12345
Death Trappers
OiramOiram12345
NafOiram0707
SuperOiramGlitchy4
Sinbad316
Starman3 (Negotiable)
MsPrincess04Able
Sam Vision
MF7070 is South Korean.
MF7070's color code was made by YetiTheAwesomeGuy.
MF7070 really likes dopplegangers for some reason.
MF7070 made the idea of The Life Competition.
MF7070 thinks Satan is the answer to everything.
Color code
Edit
http://supermarioglitchy4.wikia.com/wiki/SuperMarioGlitchy4_Wiki:Codes#MarioFan7070
Ad blocker interference detected!
Wikia is a free-to-use site that makes money from advertising. We have a modified experience for viewers using ad blockers

Wikia is not accessible if you've made further modifications. Remove the custom ad blocker rule(s) and the page will load as expected.